Reports and Brochures
Silverhill Institute supports research that is practical and relevant. As a result, our emphasis has been on publishing reports and brochures that are informative and user friendly. We thank past interns as well as friends of the Institute for their contributions.
Please feel free to distribute our research:
Living Walls in the Classroom
We just completed a project with Rose Avenue Junior Public School in Toronto on building a living 'green' wall in their school with the Grade 5 students! Students had an opportunity to participate in a number of educational and hands-on workshops on biodiversity, sustainability and personal action. This report provides curriculum materials and a framework to follow for any schools, clubs or organizations that want to a build a living wall.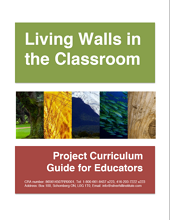 Indigenous Ecological Knowledge Project
This project was intended to help preserve and disseminate Indigenous Knowledge. We worked with a Knowledge Holder and other supporters from Birch Island and the Whitefish River First Nation. The project took place during three field trips-in different seasons-involved taking Indigenous youth on to the land to learn more about Indigenous Knowledge including their culture and medicinal plants.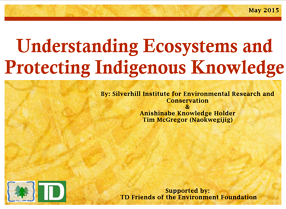 What is a Green Job?
Politicians, Economists, Business leaders, and others all talk about "green jobs." Many governments and organizations express their commitments to creating green jobs. But what are they? How do you know if it really is a green job? This report provides insight into the evolving green jobs discussion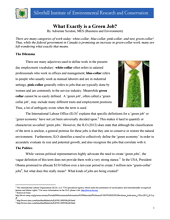 "The Environmental Apocalypse"
History is full of dire predictions about societal and planetary collapse. Many doomsday scenarios have been postulated. This report documents where well-known environmental doomsday scenarios went wrong and provides an understandings of how such misjudgments are made.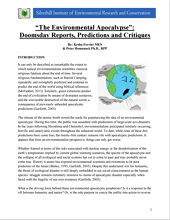 Your Butterfly Gardening Guide; How to Make Your Yard Butterfly-Friendly
Creating a butterfly garden is an easy way to attract butterflies and provide habitat for them to thrive. Any size parcel of land can be converted into habitat for butterflies. Use this guide to select plants and design an environmentally-friendly garden that butterflies will love!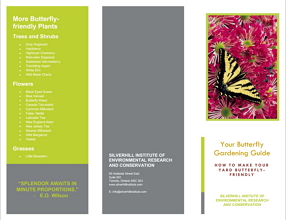 Your Hummingbird Gardening Guide; How to Make Your Yard Hummingbird-Friendly
You can see thousands of beautiful hummingbirds migrating every year past Southern Ontario. Use this brochure to learn more about selecting the right species of plants to make sure that these birds land in your backyard!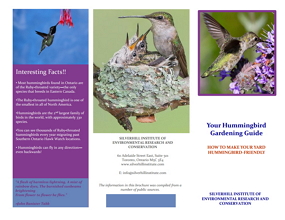 Make Your Own Living Wall – Brochure
Living walls are vertically constructed gardens suitable for the interior of a building. They are relatively simple installations that can greatly enhance the quality of a space. This brochure provides a guide on how to construct your own indoor living wall so that you can start enjoying its benefits immediately.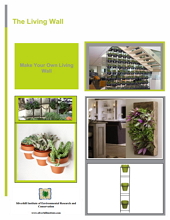 Native Plants & Your Yard by Antoinetta Minichillo, MES
Do you have green space that you would like to personalize, but you do not know where to start?
This brochure is intended to provide advice and direction to individuals and families in new suburban developments on how to personalize their residential spaces. The advice is environmentally appropriate and cost effective!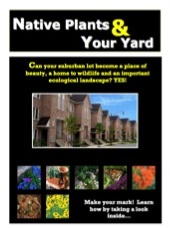 Indigenous Plants and Mining Restoration by Pakki Chipps, Ph.D.
What can First Nations teach us about plants and remediation?
This report draws extensively on First Nations' traditional knowledge to reinforce the environmental importance and social and cultural significance of using indigenous species for remediation. The geographic focus of this document is Northeastern British Columbia. Dr. Chipps, an ethnobotanist, is a member of the Beecher Bay First Nation on Vancouver Island.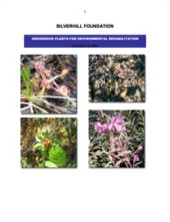 The Health Benefits of Indoor Plants by Ujunwa Nwachukwu, MES
Indoor plants are an inexpensive and natural way to improve the air quality of your home and office space. This brochure provides recommendations for selecting plants that suit your space and improve the air that you and your family breath.